Millwork Shop Drawings should be prepared by a draftsman with a working knowledge of the Millwork and casework industries.
When looking for the right Millwork drafting company one should look for a company with at least 5 yrs in business, and 5-10 yrs preparing shop drawings in the Millwork industry.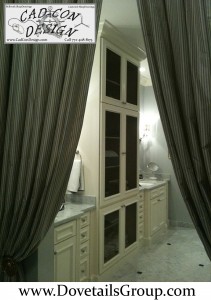 Outsourcing drawings to an experienced CAD draftsman who has been a Millwork and cabinet builder will produce an excellent product. Use outsourcing only when you need it, no overtime, no vacation, and no health benefits. Establish a good relationship with your Drafting company and you will have good results. Some companies will do project management and help communicate with the General Contractor or architect when the need exists. Your Millwork engineer needs to be an extension of your business.
Your outsourced draftsman can email your drawings to you and your local printer in various forms (.pdf, .html, .tiff, etc). It is always good to review a drawing before sending it over to your contractor that is just common sense.
Understand, though, the outsourced Company is only as good as the information you provide him/her. Insure they have hands on building experience, a good Millwork and Casework draftsman will build the Millwork desk or cabinets in his/her mind as the drawings are made, unlike an architect! Every error found on architectural drawings could have cost implications for the cabinet shop or G.C. .
#MillworkShopDrawings
Millwork Shop Drawings by Cad-Con Design llc