What Are Millwork Shop Drawings?
Millwork shop drawings are detailed technical drawings created by skilled draftsmen and designers that are used in the manufacturing of custom millwork and cabinetry. These drawings provide precise measurements and instructions on how to fabricate complex woodwork components such as doors, windows, mouldings, cabinetry, and furniture.
The drawings typically include detailed plans, elevations, sections, and details that communicate specific information about the design, dimensions, materials, and construction techniques required to produce the millwork. They may also include annotations, schedules, and specifications that provide further information and instructions for the manufacturer.
Millwork shop drawings are important because they serve as a critical link between the design and fabrication stages of a project. Accurate and detailed shop drawings ensure that the final product is manufactured to the exact specifications of the design, resulting in a high-quality finished product. They also help to minimize errors and reduce waste during the fabrication process, ultimately saving time and money.
The Importance of Accurate Millwork Shop Drawings
Accurate millwork shop drawings are essential for the success of any millwork project. They ensure that the design is fully realized and that the final product meets the designer's vision. They also help to minimize errors and prevent costly mistakes during the fabrication and installation process. Additionally, accurate shop drawings can save time and money by streamlining the production process and reducing the need for revisions.
Here are some ways accurate shop drawings can benefit a project:
Better Communication: Accurate shop drawings provide a clear and concise communication tool between the architects, engineers, and the millwork fabricator. When all parties involved in the project are on the same page and have a clear understanding of the design intent, it helps to reduce confusion and avoid mistakes.
Time and Cost Savings: Accurate shop drawings can help to save time and money by reducing errors and rework. With accurate shop drawings, there is less need for revisions, and the millwork fabricator can produce the finished product more efficiently, reducing overall project costs and timelines.
Improved Quality: Accurate shop drawings ensure that the final product meets the design intent and specifications. With clear and concise shop drawings, the millwork fabricator can produce high-quality products that meet or exceed project requirements.
Minimized Risks: Accurate shop drawings can help to minimize risks associated with the project. For example, the shop drawings can identify potential issues or conflicts before fabrication, allowing for timely resolutions that can prevent project delays or additional costs.
Our Millwork Shop Drawing Process
At Cad-Con Design, we have developed a thorough and efficient process for creating high-quality millwork shop drawings. Our team of experienced designers and draftsmen works closely with our clients to understand their specific needs and design requirements. We use the latest software and technologies to create precise and detailed drawings that accurately represent the millwork design.
Benefits of Using Our Millwork Shop Drawing Services
Accurate and detailed millwork shop drawings
Streamlined production process
Minimized errors and revisions
Savings in time and money
Expertise in complex and custom millwork designs
The process of creating high-quality shop drawings generally involves the following steps:
Gather project information: This includes reviewing the architectural drawings, specifications, and any other relevant project information.
Take field measurements: Accurate field measurements are critical to ensuring that the shop drawings align with the existing conditions on-site.
Create initial sketches: Using the gathered information and measurements, initial sketches are created to help visualize the millwork pieces and their placement.
Review and refine sketches: The initial sketches are reviewed and refined based on feedback from the client, architect, or other stakeholders.
Produce detailed shop drawings: Once the sketches have been approved, detailed shop drawings are produced using computer-aided design (CAD) software.
Review and finalize shop drawings: The final shop drawings are reviewed to ensure accuracy, completeness, and compliance with project specifications.
Issue the shop drawings: The final shop drawings are issued to the millwork manufacturer or fabricator for use in production.
Throughout the process, it's important to maintain clear communication with all stakeholders, including the client, architect, and millwork manufacturer, to ensure that everyone is on the same page and that any issues or concerns can be addressed in a timely manner.
Examples of Our Past Projects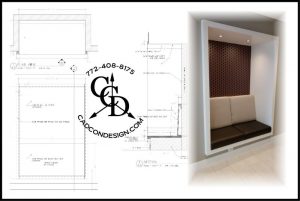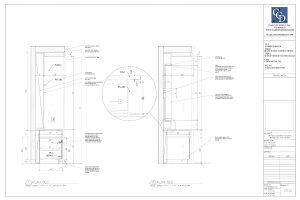 Our team at Cad-Con Design has extensive experience working on a wide range of millwork projects, from custom cabinetry to intricate paneling and trim work. We have provided millwork shop drawing services for projects in commercial, residential, and institutional settings. Check out our portfolio for examples of our past work.
Contact Us for High-Quality Millwork Shop Drawings
If you are in need of accurate and detailed shop drawings, look no further than Cad-Con Design. Contact us today to discuss your project and learn how we can help bring your design to life.
Below are a few reference sites to help you learn about our industry.