Casework Shop Drawings explained.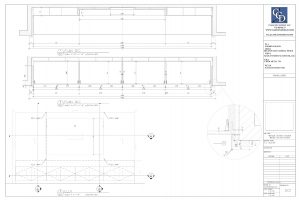 Casework Shop Drawings are part of the Casework Submittals Package. Therefore the Architect will want the following. For instance, submit two copies to the architect one of which will be returned with reviewed notations prior to commencement of work.
Indicate plans Sections and elevations, materials, surface grain directions, profiles, assembly methods, joint details, fastening methods, accessories, hardware, compliance with specified fire-retardant treatments, preservative treatments, and schedule of finishes.
Professional Shop Drawings improve your image, save time, and increase profits!

We provide casework shop drawings
for K-14, University, and Research Laboratories,
including countertops, service fixturing
and fume hoods.
We produce high quality, accurate Shop Drawings for submittal packages and production. With over 25 years of AutoCAD experience and almost 30 years in the Construction Industry, we can provide buildable shop drawings that will impress your clients and improve your bottom line.
Improve your Image With professional, high-quality Casework shop drawings, your customers, their architects, and the project owners will be impressed. Submittals are the first product your customer receives and first impressions are extremely important. Professional Casework Shop Drawings will give your clients confidence in your company and start the project off on the right foot.
We Do Shop Drawings your way.
Drawings are to specification and customized to optimize your companies manufacturing processes and equipment.
Company accounts are set up via a thorough interview and drawings are drafted to manufacturing specifications.
Subsequently, to further impress your clients, we get your submittals done fast. Good Shop Drawings mean less time getting approvals and doing revisions. Project managers and the shop floor will waste less time asking questions. Let your engineering people utilize their time by outputting jobs to the shop (Ordering materials, CNC programming, etc.) By using our accurate, complete Casework Drawings, their job will be much easier and faster. With shorter submittal times, fewer revisions, increased output from in-house engineering, the result is shorter job turnaround times which is what your customers want.
We Help Increase your profits!
Successful projects start with good Drawings. Professional, accurate Shop Drawings, save significant time in project management and production. Reduced Employee time with less stopping to ask questions. All information is on the Drawings, production time is optimized and your bottom line is improved. Quality Casework Shop Drawings equal Fewer Errors and More Profit.
Educational Casework Drawings?
In short, these are specifically cabinets for Schools.
Check our Peerless Cabinets one of our local Casework Manufacturers.
Ask us about Wood Laboratory Casework and Equipment Drawings
Also, Check out Millwork Shop Drawings by Cad-Con Design llc.